There is universal agreement that people are the greatest resource within an organization. Managers DRIVE Employee Engagement in next level organizations.
Recently, there has been an increased focus on the Manager and their critical role in the development of your most valuable resource.
By recruiting, selecting and engaging the right people, you are able to maximize the human and business potential of your company.
I share this equation with potential clients as a success model and one that is gaining more importance with each passing year:
EX ≥ CX
TRANSLATION: The employee experience must be equal to or greater than the customer experience.
Peter Drucker was famously quoted as saying: "The purpose of business is to create and keep a customer."
While we don't disagree that customers are critical, managers MUST create an employee experience that maximizes each person's potential before we create a game changing customer experience.
Once engaged and connected to the goals of the organization, the employee will create industry leading experiences for your customers. Their passion and connection will be infectious.
Managers – Your Secret Weapon
Many leaders are familiar with statistics and the challenge of global employee engagement. It has been well documented and is illustrated below.
One statistic that jumps off the page below for many HR and Senior Leaders is:
The variance in an employee's engagement score directly related to the manager they report to is 70%!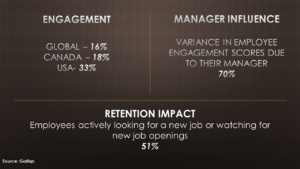 A close second is that half or more of your workforce is currently looking for a new job. Turnover is disruptive and expensive to any organization and is an issue we dive into in some depth in our recent article Sales Team Engagement –Red Flags and Early Warning Signs
In the new book ' Its The Manager', the authors delve into today's workplace requirement for managers to shift from boss to coach.
No Manager is perfect and we understand the pressure and challenges that managers face day to day. When mang
When great managers are empowered with the the following tools, they are able to engage their people and DRIVE performance.
The 12 Elements of Great Managers
The 5 Cornerstones of Engagement
The 3 Coach's Connection Fundamentals
When Managers train on and execute using these tools, you will quickly understand if these leaders are able to make the required shift from manager to coach which is necessary in today's workplace.
To learn more on the proven tools and programs that ensure your managers DRIVE employee engagement, do not hesitate to contact us to learn more.