Continuous Learning & Development is Critical to Employee Engagement.

Generational shifts in the market place are driving the change in demand for meeting and team programming. Professional Development Sessions are becoming a necessary component of a successful team meeting.
Meeting agendas have traditionally focused on sales results, departmental updates, new product launches and multiple ways to cut costs. These remain important issues for any business but the demand of the new workplace is to also deliver self and team learning during team meetings to enhance personally and professional growth.
Our Professional Development Sessions are designed to deliver maximum impact in a purpose driven session. The sessions are a great way to collaboratively focus your team on personal and professional development while simultaneously DRIVING Engagement and business results.
Given the changing demands of today's managers and teams, all of our sessions are fast moving, highly interactive and focus on both self and team awareness and learning. Below are examples of some of our Professional Development Sessions that focus on both self and team learning:
 Sessions Using Online Assessments – Suitable for Managers and / or Team Members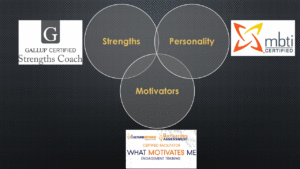 Session A: What Motivates Me? – includes The Motivators Assessment™ by The CultureWorks+ 1/2 or Full Day TEAM Engagement Training Session
Session B:

Leveraging Strengths For Personal and Team Success!-

 Includes The CliftonStrengths Assessment

™

by Gallup + 1/2 or Full Day TEAM Strengths Training Session

Session C: Personality Matters – 

What's My Type?

 

– Includes The Myers-Briggs Type Indicator® Assessment + 1/2 or Full Day TEAM Personality Styles Training
Stand Alone Sessions (Programs Without Assessments) – Suitable for Managers
Session D: The Power of Effective Rewards & Recognition – Effective Rewards & Recognition are critical to successful engagement but are often misaligned with the motivations of team members
Session E: The 12 Keys To Engagement  Excellence (Solving The Employee Engagement Puzzle) – Actionable plan to address the 12 elements of engagement as determined by Gallup – 1/2 or Full Day Session

Full day includes execution planning

Session F: Making The Shift From Boss to Coach – Today's workforce demand coaches as leaders.  Those who remain in the traditional  boss / manager role will face the cost and disruption of high turnover –  2 Hour or 1/2 Day Session
Session G: Implementing The 3C's of Engagement – By harnessing the power of Communication, Collaboration, and Contextualization, leaders ensure that they connect rather than divide their people – 2 – 3 hour session
Session H: ALL IN Culture Training – Your Road Map To Creating a High Performance Culture (Senior Leadership Focused) – 1/2 Day or Full Day Sessions
Customized Sessions
All organizations are unique and have specialized needs. If you are in the process of planning a professional development session for your managers and / or team members and you don't see a session that fits your needs, please don't hesitate to contact us for a custom program that DRIVES Engagement within your team.