Why DRIVE Engagement?:

Employee Engagement is the most time and cost effective way to positively impact business results
Gallup, the world's leader in employee engagement research, reminds us in the new book 'It's the Manager' that:
"The new purpose of business – and the future of work – has to include maximizing human potential.
In order to maximize human potential employees must be engaged in the organizations in which they work.
Three Reasons to Nor Delay DRIVING Engagement:
1) Immediacy – Unlike many capital purchases that positively affect an organization, there is no "lag" time for execution of an engagement strategy. Implementation begin immediately and results can be seen in the first few weeks.
2) Cost Effectiveness – In comparison to new equipment, software or other projects designed specifically to affect business results, employment engagement strategy implementation comes in at only a fraction of the cost.
3) Proven Results – Implementing a well designed sustainable employee engagement strategy delivers world class results.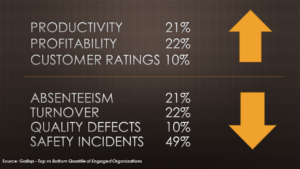 A Lack of Engagement Unfortunately Also Has Results :
88% of Employees are not passionate about their work
90% of leaders feel that employee engagement makes a positive impact but only 25% have a strategy
$500 Billion is lost annually due to employee disengagement
The reasons for the current lack of employee engagement are:
Lack of feedback about their progress
Too much emphasis on setbacks, failures and bad news
Unclear goals, conflicting demands and insufficient resources
Little autonomy or opportunity to contribute ideas
Lack of encouragement
Don't lose faith, there is VERY GOOD NEWS!
If current employee engagement efforts are stalled or not currently meeting your goals, you are not alone.
Proven cost and time effective solutions are available for companies dedicated to reaching their engagement goals by following these three easy steps:
Measure Your Current Employee Engagement
Build or Rebuilld Your Engagement Strategy
Execute the Plan Throughout the Organization
Need some help to get started?
To discuss your current position and your engagement goals, do not hesitate to Contact Us. World-class engagement and business results are within your reach. You will not regret asking your self "Why DRIVE Engagement?"
Some of our recent articles including "Why Drive Engagement can be found on LinkedIn